We live in an age where being able to effectively multi-task is considered a talent. With so much to do, it is often necessary for us to juggle multiple responsibilities at once. However, driving is one task that should always receive our undivided attention since our lives and the lives of others ultimately depend on it. Unfortunately, distracted driving is common, especially among teens. According to the AAA Foundation for Traffic Safety, over half of teen drivers use a cell phone while behind the wheel of a motor vehicle. Additionally, one in four teen drivers admitted to sending a text message while driving within the past 30 days.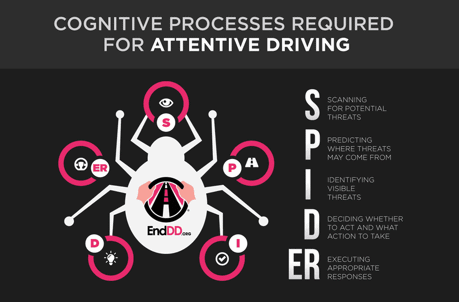 Distracted Driving Laws
There are numerous reasons why drivers should avoid distractions. It could result in a fatal accident, result in serious injuries, or you could end up with a hefty traffic ticket. Drivers under the age of 18 are prohibited from using any sort of communication device, such as cell phones, while driving. The consequences of violating this law and receiving a traffic ticket include:
Costly fines
Suspension of driving privileges
Court fees
Insurance rate hike
Attorney fees
Of course, teen drivers are not the only ones who are subject to restrictions in Louisiana. Drivers who are 18 years of age or older are banned from using handheld devices if they have a learner's permit or an intermediate license. Adult drivers are prohibited from texting and driving or using wireless devices to post to social media while operating a motor vehicle.
That said, phones and other electronic devices are not the only distractions that result in accidents. Passengers can be just as distracting. In fact, this is why Louisiana's graduated driver licensing program does not allow more than one teenage passenger between 6 p.m. and 5 a.m. without a licensed parent, guardian, or adult over 21 years of age present.
Stay Safe
Do what you can to stay safe and avoid distractions by following some of these helpful tips:
Avoid eating, drinking, grooming, adjusting a GPS device, or speaking to your passengers while driving.
Teen drivers can turn to their parents or driving instructor for advice on how they stay focused while on the road. A lot can be learned from a more seasoned driver.
Passengers can also help! If you are riding with friends, kindly remind them not to text or use a cell phone. If they want to change the GPS route, do it for them, so they do not get distracted by handling the device.
Learn more here.
Work with a Skilled Bossier City Car Accident Attorney to Obtain Compensation!
Being injured in an accident can be overwhelming, traumatic, and costly. You should not have to bear the cost of an accident that was caused by a distracted and negligent driver. At Joseph A. Gregorio, A Professional Law Firm in Bossier City, our compassionate personal injury attorney has over two decades of experience fighting on behalf of injured victims.
Do not hesitate to reach out to our team today! Call us at (318) 719-7515 to request a complimentary case review.